Marine design
MultiSurf
Hydro
Flattener Suite
AHVPP
CFD
Industrial design
SurfaceWorks
Curves
Surfaces
Reviews
SurfaceWorks Solo
Flattener
SurfaceWorks reviews
SurfaceWorks makes all the difference!
Our Norwegian VAR, Jan-Erik Iversen, ProNor A/S, tells us the following story:
When a defense department's design professionals made the decision to replace their old generation system with a state-of-the-art, next-generation solution, they went through an intensive evaluation process. Among the requirements for their new system was advanced surface modeling integrated with leading edge solid modeling.
The suppliers of eight different systems presented their software and solved increasingly complex design tasks. After several rounds, only two systems were left for consideration, one of which was SolidWorks. The other system was a mature and industry-established solution. As it turned out, it was also less powerful and hard to use. The client's preliminary decision was to purchase ten seats of SolidWorks and two seats of the competing system. When ProNor representatives asked why the client thought they would need two systems, the response was that SolidWorks was not as well suited for complex work such as advanced surfacing. Hearing this, ProNor installed a demo version of SurfaceWorks on the tester's computer.
A week later ProNor got a phone call: "We are surprised, but we can actually make more advanced surfaces with SolidWorks/SurfaceWorks combination than we could make with the other application under consideration."
After some more intensive testing, the decision was made to use SolidWorks/SurfaceWorks exclusively.
This decision was made back in February, and the customer is very happy with the ease-of-use and complete Windows integration the winning combination of SolidWorks and SurfaceWorks has afforded them.
For more information, contact Jan-Erik Iversen at ProNor A/S:
jan-erik@pronor.com
http://www.pronor.com/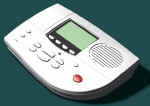 David Sharbaugh of POINT by POINT describes how he used the combination of SurfaceWorks and SolidWorks to design an answering machine. "What's key," notes Sharbaugh, "is that the two products are so well integrated. Design relies so heavily on iterations. I can't really imagine being able to design efficiently with a less integrated approach."
SurfaceWorks Eases Design of Complex Antenna Surfaces
Michael Brenner, founder and president of Engineering Metrology Services describes how he and his team learned to use SurfaceWorks and how it has benefited them. "We can now do more than we once could in less time. SurfaceWorks enables us to realize greater productivity, improved design flexibility, and timely response to customers."
Todd Himes of Optima Wheels designs awesome wheels using the winning combination of SurfaceWorks and SolidWorks. "SurfaceWorks allows me to quickly and accurately change the shapes that I need so that the wheels are structurally safe. I can easily control the actual electronic data that I will use. In this business, there's no room for guesswork. I have real precision confidence in using SurfaceWorks."